Exporting Invoices - Controlling permissions
You can control who can export invoices. Without this permission, the export button will not appear.
To do this, go to Business > Settings > Validation and page down to the section shown below. Choose the people in the list. You can multiple select people using the Control key and clicking. Now save your changes.

To appear in this list, the user needs the Finance and Admin role. To provide these roles, head to Admin & Settings and over on the right-hand side, expand the Divisions, find the user and put a tick in the column for these roles, as shown below. You will need the Tenancy Admin permission to get to this section.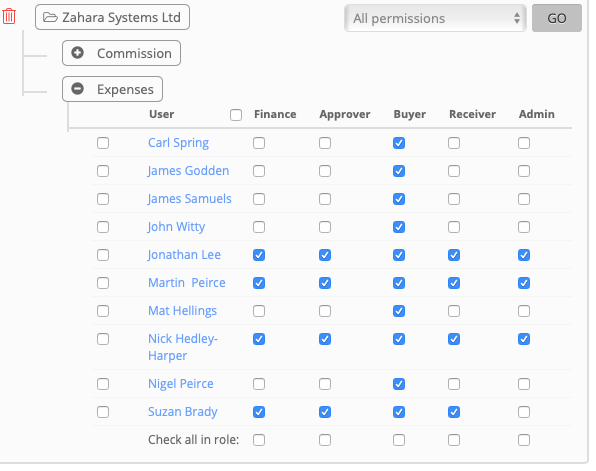 Related Articles

Invoices List - Zahara 3

Invoices List The 'Invoices List' in Zahara 3 is where you'll find all the invoices associated to the business unit you're logged in to. To access the list select 'Documents' in the main menu, from there choose 'Invoices (beta)'. This will take you ...

Invoice export icons - colour codes

When you export an invoice from Zahara, we will show an export icon based on your set up. The three colours are: Green – exported successfully Yellow – exported awaiting confirmation Red – exported issue reported Your export settings are in Business ...

Invoices Inbox & Built-in OCR (Optical Character Recognition)

Invoices Inbox Permissions To have access to the Invoice Inbox, you need to have full permissions for invoices - create, edit, delete and view. You must also have the "Finance" or "Admin" role in every division of one or more Business Units or to ...

Permissions & Roles

Admin > Settings > User Membership Individual Permission Sets Each user can have their permissions individually tailored for their entire Zahara access. You achieve and edit this by clicking their name in the user section to get to the options shown ...

Invoice Processing In Zahara

Overview In Zahara you can record two types of invoices - standalone and those that relate to a purchase order. There are several different ways of recording an invoice in Zahara and there are two applications you can use to scan / load invoices - ...