Invoices Inbox
Permissions
To have access to the Invoice Inbox, you need to have full permissions for invoices - create, edit, delete and view. You must also have the "Finance" or "Admin" role in every division of one or more Business Units or to have "Tenancy Admin" status in order to be able to access the inbox.

If you have "Finance" or "Admin" roles for every division of multiple Business Units, you can process invoices for multiple companies. You will only be able to see invoices for the Business Units that you are assigned to.
Part 1 - Getting emails into the Inbox
You can generate your own @zaharamail.com email address or use your own Office 365 or Gmail account with Zahara, and have supplier invoices recorded in the Invoices Inbox together with their attachments. Once an invoice arrives in the inbox, provided you have invoice count left, the invoices will be automatically read for you.

watch the video below for a fast overview

Generate an email address
The easiest thing to do is head to Business > Settings > Invoice Email Address and generate an email address for that Business Unit. You can have any unique address. We recommend you use your company name or a variant like
zahara_invoices@zaharamail.com
Test it straight away. Email a PDF attachment to this email address. It should then appear in the Invoices Inbox.

There is no other way to see these emails but anything emailed to that address should appear in the Inbox.

If you are all set here, jump straight down the page to the section "Setting Up Your Business Unit Email"

Microsoft Flow
Read this article to learn how to set up Microsoft Flow for your Microsoft 365 email account.
Setting Up Your Business Unit Email
To match your Business Unit correctly, you need to populate your email field in the Address tab with any email addresses you are likely to receive emails from. You may be collating them in a folder from various sources so you can separate email addresses with a semi-colon. If you have just generated your email address and only need to use this, add it in to the field shown below.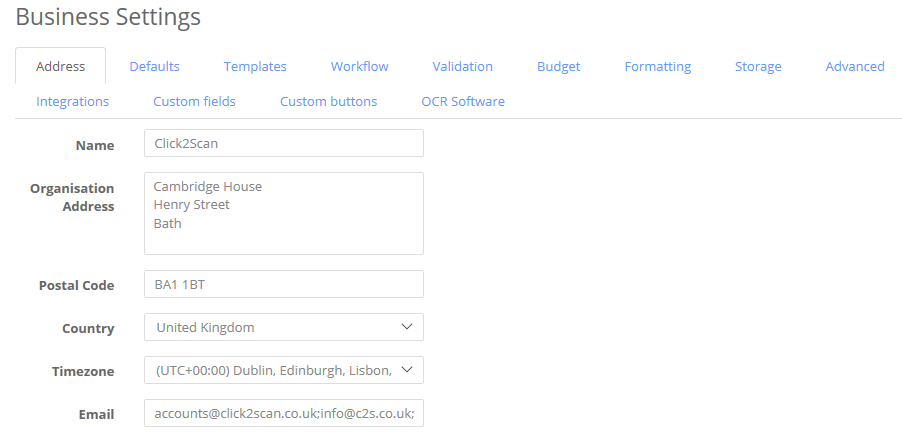 Forwarded emails - Zahara supports you forwarding invoices from your own email account so in the Email field in the screen shot above, put all of the emails that may forward emails. We will only use the domain part of the email so just one domain email should be sufficient. What happens here is that for a forwarded email, we will check to see if the senders email domain is in this record. If it is we will skip and start reading the body of the email under we find an email address that matches a suppliers email address.

Edit your PO template
Be very specific with your suppliers and tell them where you want your invoice sent. The best way to do this is to either mass email them, but also to put the instructions clearly on the purchase order including your new zaharamail.com email address - if you are using that.
"Please send your invoices to mycomany@zaharamail.com"


Supplier Matching- Important!

A key thing to do is make sure you have relevant supplier email addresses recorded against each supplier. It could be that you send purchase orders to one address but get invoices from another. Make sure you record the invoice email addresses in the supplier record. When Zahara receives an email into the Inbox it attempts to match the supplier and it will do this on the email address.

If no email address matches we will look at the OCR results (assuming you have invoice count and the invoice has been read). We will fuzzy match the results with the supplier records we hold for this business unit. If there is a successful match then the supplier record will be populated. This accommodates a multi-page invoice PDF being emailed into Zahara as well. Invoices will be separated and suppliers matched. Some invoices don't have a supplier name clearly displayed - they may use a logo - so if we cannot find a match, the supplier record will be set to the very first supplier in your list. It's very important when processing an invoices that users do cross check with their eyes this first piece of key information.

If for any reason an invoice is processed against the wrong supplier, you can edit it and change it later on. Just make sure it hasn't been exported already before you do this.
Part 2 – Using the Inbox
Invoices will start to appear in your Inbox and the first thing Zahara does is try to match the Business Unit based on the To address of the email and matching that with the value in your Business Settings. Matching the supplier is relatively easy if you have a valid email address stored in the supplier record. Examples below:



Exclusion of T&C documents


Zahara excludes all email signature images and most terms and conditions documents. If you have a supplier that sends a separate T&C PDF and it's still getting through here, let us know the file name and we will add it to the exclude list. This is why we recommend always referencing a T&C in a PO and Invoice with a hyperlink and not a separate document.




... To process the invoice, click the edit icon.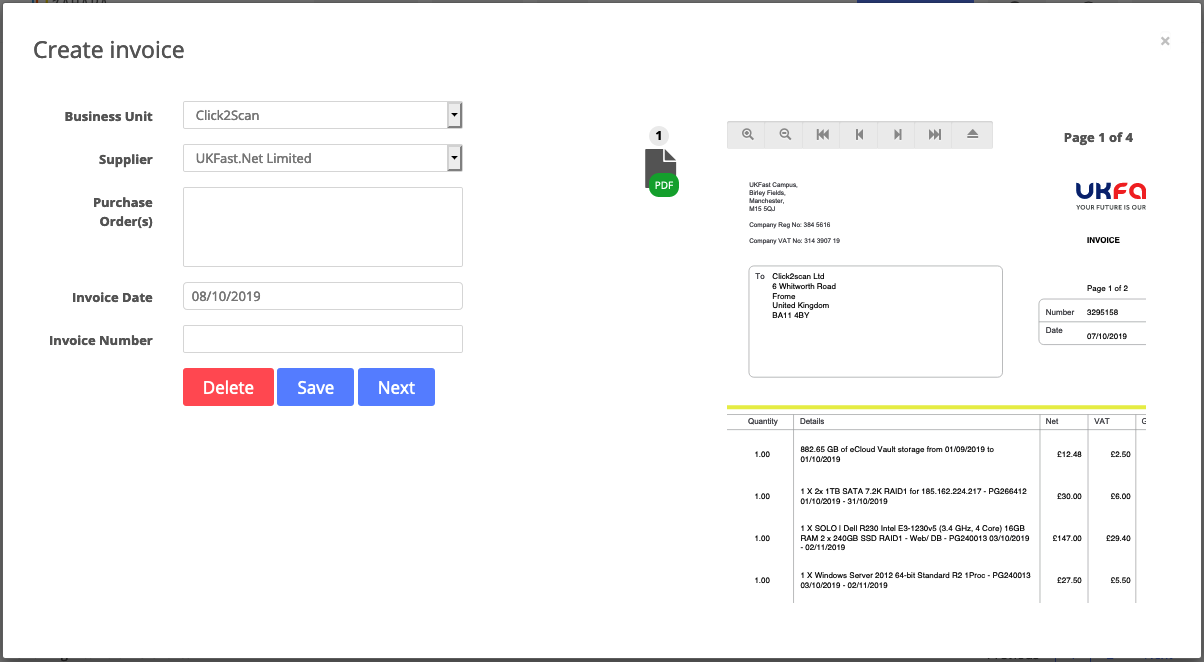 The first screen as shown above is for those with multiple business units. It allows you to change the Business Unit if the selection is wrong. This will become apparent once the PDF is displayed. If the document has been read by OCR the Invoice number will be populated automatically.




You should see a preview of the Invoice and the fields as shown above. You can correct a supplier mismatch, select the relevant purchase order and key in an invoice date. If you want to Save it and come back to it you can do. Alternatively click Next. If you match with an order, the lines will import from the order to save time with the keying in.




No PO Orders
This is where the OCR comes alive. If you have "Page Count" available then the invoice will be read for you. All of the line items will be read along with the header and footer values. Recognition is never 100% accurate so please take time to check the values add up. We run various rules and validations to to make sure everything adds up. You can make any corrections as required though.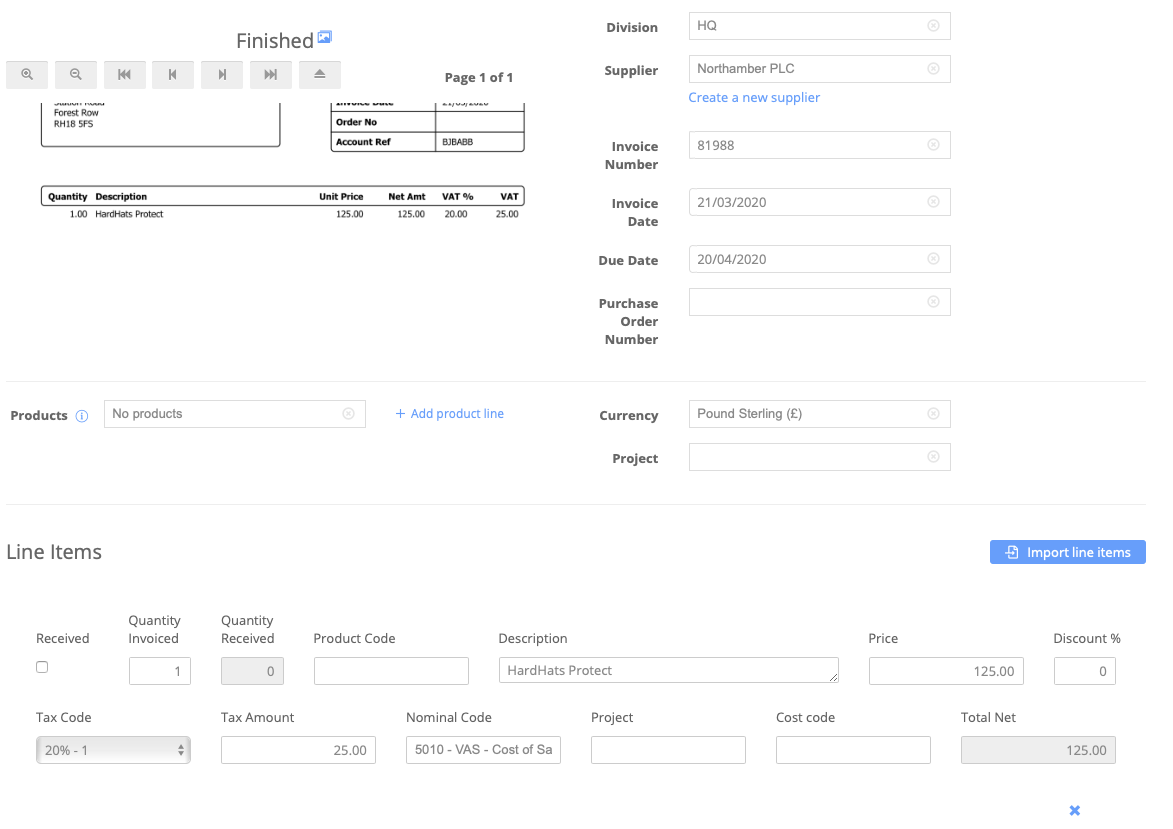 Setting Nominal & Tax Codes
With the built-in OCR, Zahara codes the lines based on your history. We look at the history of that supplier and choose the coding you have used in the past. You can override the coding of course. If this is your first ever invoice, then we will revert to the supplier defaults in your supplier record. Alternatively, just save your first invoice correctly with the correct coding.
Division Setting
Pay attention to the Division selected by the OCR. You can override this of course but again we make a decision based on the history of the invoices you have keyed already.
PO Invoices
You raised a PO, sent it to the supplier and now the invoice has come in. With the OCR enabled, we will look for the PO number. If we match it (ie find one), we will validate it against the supplier and make sure it's one that we know exists. If we have a match then we will select it in the list on the first screen as shown here: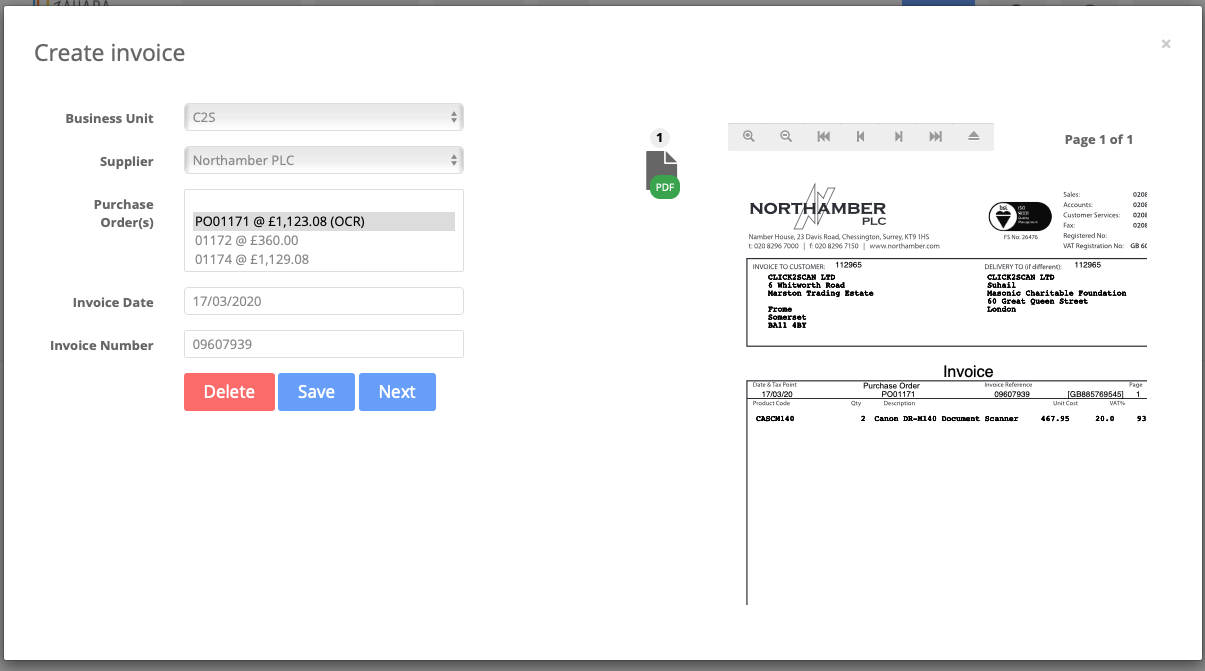 Here you will see the PO number is selected and has (OCR) next to it. This means it's read and linked.

Now if you click through to the next screen, the line items from the Order will be used instead of the read lines. You need to view the PDF and make sure the totals of the invoice match the total of the order. Make any adjustments as required.

Remember - ejecting the PDF with the up arrow saves alot of time -
Processing Invoices that have been sent to the wrong Business Unit
If you see that an invoice has been sent to the wrong email address and so has been matched to the wrong business unit, please do not delete it. Instead, you can reassign the invoice to the correct business unit that will remove it from your list, but it will still appear in the inbox for other users who do have the permission to process them.

To do this, select the invoice to process. Under the dropdown menu for "Business Unit" select the correct Business Unit. When you change this Business Unit to one that you aren't able to process invoices for, the "Delete" and "Next" buttons will be disabled. Simply select "Save" and the invoice will be removed from your list, but will remain in the inbox for another user who does.
Still to come with Built-in OCR
Validations and warning - we will make you aware of issues and warn you of inconsistencies

Handling currencies - invoking the suppliers default currency

OCR pricing
In order to use the built-in OCR, you need to buy page count from us. We call it page count but for built-in it's actually
invoice count
. So a 50 page invoice will count as one invoice. The pricing is on
our website
with for all customers. The more pages you buy, the lower the price. Pricing is only in GBP and has to be purchased by Card.