Setting up a Watch folder
You can setup a Watch folder in SmartInvoice. This means any invoices (emailed attachments or scans) landing in this folder will be read automatically, ready for you to verify.

To setup the Watch folder, click Tools > Settings > General tab.

You will see the watch folder path: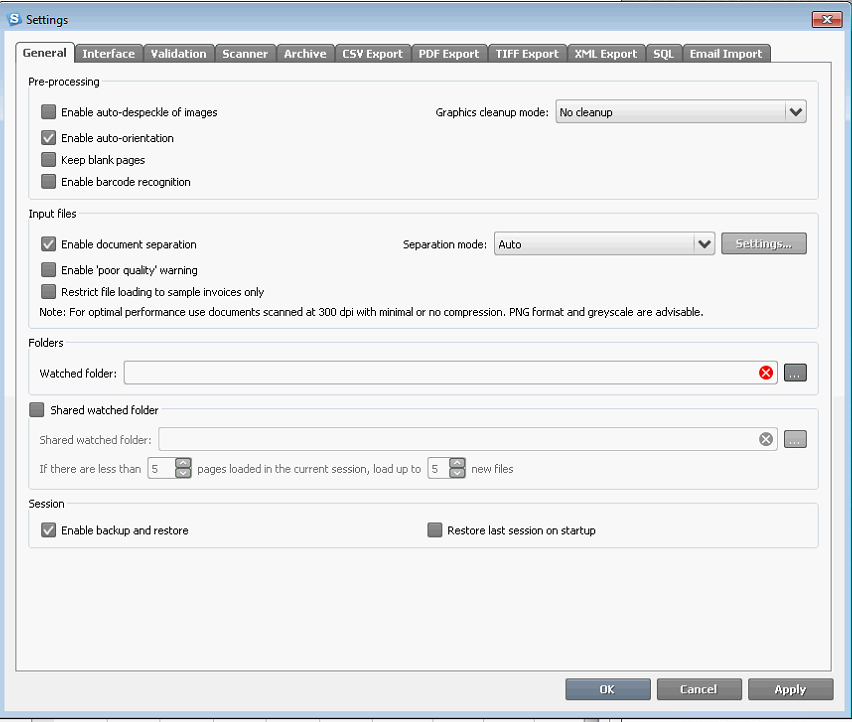 Populate this and save the changes. You can also setup a shared watch folder with other SmartInvoice users.

SmartInvoice is a desktop program so the application needs to be running for this to work.

However, with this set, it will auto-load pending documents on startup.
Related Articles

How to install SmartInvoice

SmartInvoice can be installed once you have successfully installed SmartSync. SmarySync needs to be installed first and then synced with Zahara. As part of the installation of SmartSyc, you will be prompted to install SmartInvoice. If you want to ...

SmartInvoice FAQs

What is SmartInvoice? SmartInvoice is a Windows desktop tool for processing supplier invoices. Load or Scan invoices and then have them automatically recognised and intelligently matched against your orders in Zahara. Invoices are then recorded in ...

Setting up Budgets

Budgets are created in the Budgets manager and then assigned to a Division or a Project. You can create a Budget against Ledger codes or Cost Codes A budget can be weekly, monthly, quarterly or yearly. You can download a template and upload it back ...

SmartInvoice Page Count - How it works

The SmartInvoicie page count is an allocation that can be used over any period of time. Once it is used up you buy more and replenish it. The more you buy up front the lower the unit price. The key thing here is that it is a page count, not an ...

Adding Users & Setting Permissions

Adding & Managing Users Your license with Zahara is for named users. This means if you need to register a new user, you need to make sure your license count will allow for a new user. If you are taking a trial, the you have unlimited users for the ...